In this day & age paperless teaching is the future.   Seeing that this is the case it should be no surprise that the next step should be using emails for ESL teaching.  How emails are incorporated in the out-of-class learning experience depends of course on the nature of the teaching environment as well as the needs of both student & teacher. Today we will consider using…
---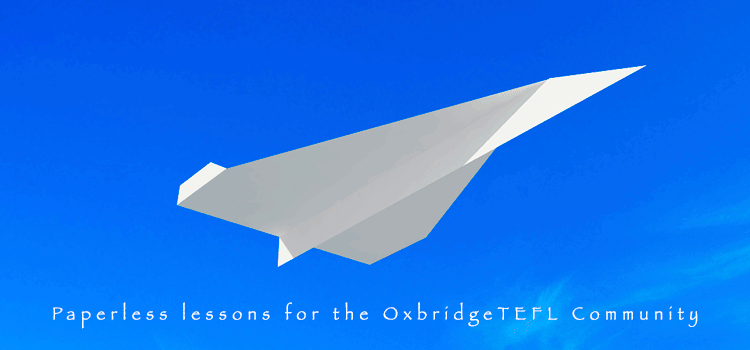 Ready-to-use paperless lessons are now a reality for the OxbridgeTEFL community members due to the implementation of an integrated system of online management of the teaching/learning process. Not only there is no single paper wasted for a lesson plan, but also both teachers and students are now able to evaluate the teaching process in real time. Taking the register is no longer a paper dependent…
---
httpv://www.youtube.com/watch?v=sbemTpjPfO4 A new product has come on the market for those wanting a digital solution to losing weight – a fork. A Hong Kong company, HAPILABS, has showcased its HAPIfork at the Consumer Electronics Show in Las Vegas, USA.
---
httpv://www.youtube.com/watch?v=9bZkp7q19f0 How often do you watch YouTube music videos? Have you seen the recent Gangnam Style video? If so, then you are one of around 971m other people! The video to the global smash hit song Gangnam Style has become the most-watched clip in YouTube's history.
---
httpv://www.youtube.com/watch?v=_nuMogouSM8 Is it legal for someone to read your email if you don't log out? Do you have to unlock your phone if a police officer asks? Can a private Facebook post be used against you in court? If these are questions that you don't know the answer to then read on…
---
---
httpv://www.youtube.com/watch?v=cQl6jUjFjp4 The term CAPTCHA (for Completely Automated Public Turing Test To Tell Computers and Humans Apart) was coined in 2000 by Luis von Ahn, Manuel Blum, Nicholas Hopper and John Langford of Carnegie Mellon University. Luis – the man who brought you the word CAPTCHA and reCAPTCHA, now unveils his newest and most innovative project to date, please watch the video.
---
httpv://www.youtube.com/watch?v=kAG39jKi0lI For the makers of the device whose name became synonymous with messaging, it was a deeply embarrassing 36 hours. Untold numbers of Blackberry users, first in Europe then in much of the rest of the world, found that their email either slowed or ground to a halt and the BBM service became unavailable. Worse, the whole incident turned into a business school case study…
---
Tim Cook, Apple's new CEO, who took over from his iconic predecessor Steve Jobs, announced its long-awaited fifth iPhone release. However fans were less than impressed! httpv://youtu.be/5uQLLpVNG5c
---